Jul 10 2020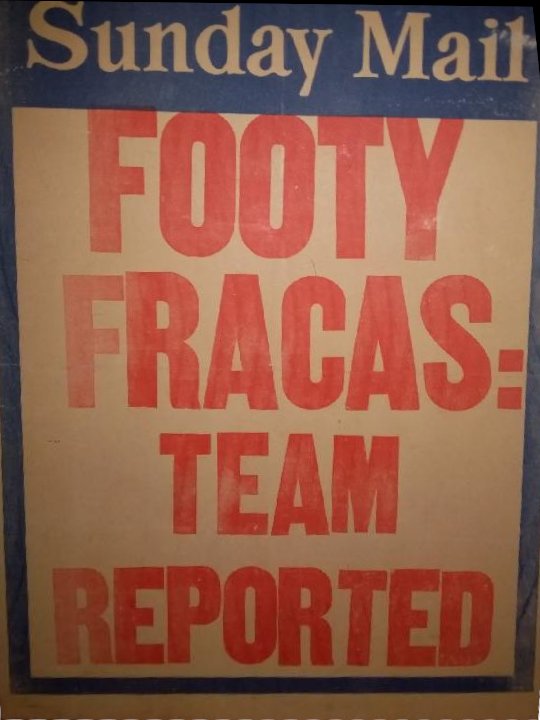 SHOCs/Greek Orthodox 50 year Reunion
Remembering the Match of 22 August 1970
"FOOTY FRACAS – TEAM REPORTED"
SHOC's has a proud history. Much of it formed many decades ago well before the young champions of today were born.
One unique match occurred in 1970 when we were in our third Amateur League season.
We were scheduled to play the then Greek Orthodox team on our home ground (CBOC's Oval) in the South Parklands. Many of our players were the original SHOC'ers who had formed the club and played since the first season in 1968.
It was the second last A4 Minor Round match and both teams were competing for second position in a very tight Grade, with only one win difference between second and sixth.
The stage was set for an Olympic like struggle!
The umpire, John Hutchinson, was officiating at his first match. He must have been a little nervous when, as he held the ball aloft at the commencement of the match, he noticed the Greek fullback was lying unconscious in the goal square with the SHOC's full forward, Paul "Roughie" Holland,  looking very guilty!
We all knew that things could get ugly!
It went from there and while it was never spiteful it was definitely a very physical confrontation.
The Amateur League record that eight minutes into the last quarter the match was called off and the entire Greek Team was reported. Prior to this and afterwards in the change rooms there was a melee. One Greek player received a broken wrist while another a broken nose.
A "poetic" record of the match in the Newsletter at the time explains the detail (see below).
The Sunday Mail was excited and as we headed home that evening they already had the banner headlines outside newsagents "FOOTY FRACAS – TEAM REPORTED".
Both teams suffered at the tribunal with one Greek player and one SHOC's player outed for 11 matches. In its dismissal of the charge against the Greek Team the Tribunal was swayed by the fact that members of the SHOC's team "…had made comments in extremely bad taste!!!!!!!"
It is 50 years on and old Foes are now firm Friends.
Leaders of the Greek team have contacted us and want to know if we would be interested in a reunion.
It will take the form of a lunch at the Goodwood Park Hotel at 1.00pm on Sat 22 Aug 20 (Covid permitting).
We are seeking out all those who played on the day, (A's or B's) and any spectators or friends and invite you to join us.
More info from Bill Denny 0449 702 525 or bill.denny@hotmail.com or Jack Holland 0428 643 605 or jhol2365@bigpond.net.au