Jun 21 2019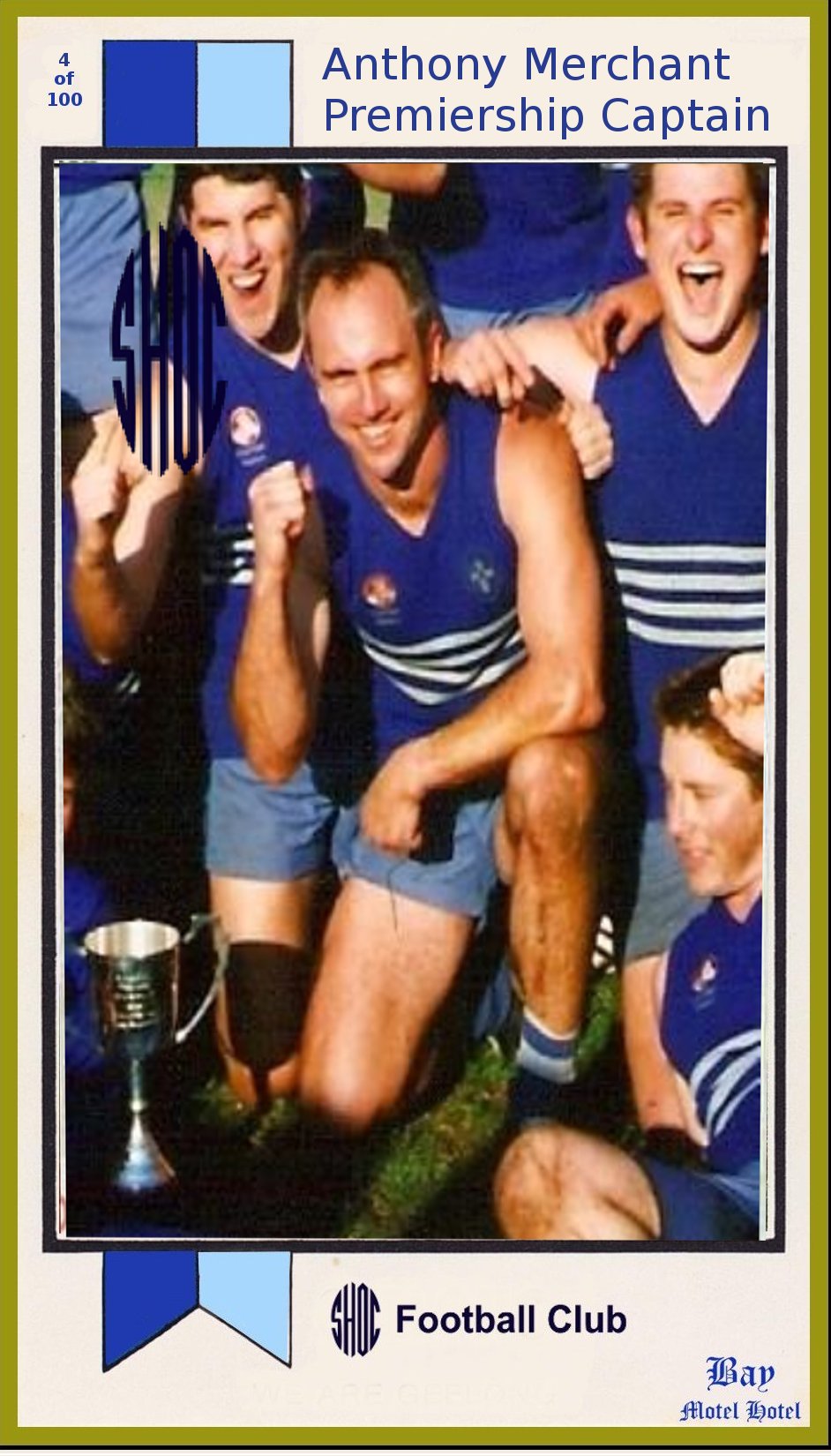 A shameful SHOC fact is that our last A Grade flag was way back in 2001. Our courageous captain that day was none other than Anthony Michael Merchant (despite the honour boards at the conference centre displaying Kym Welsby's name).
If the Oxford Dictionary had pictures, Merch would appropriately be named under 'dauntless'. A human chest with a will for the contest. His nicknames never quite backed up his on field heroics. Tight T-Shirt Tony, DILF or Mercan don't quite do justice to a man that bleeds blue and blue.
Merch had a massive tank. He once ran a Walkerville tagger into a motion induced coma. His handball was as penetrating as his steely gaze and a set of hands that were envy of the Boston Strangler. You might think the complete footballer…..until you saw him kick. His favourite advice to any eager young Auskicker was "you can never kick to the ball too hard" and didn't he live this creed. His left leg that used to swing harder than a Burnside dinner party and it was just as likely to hit the middle of his shin as it was his boot.
He initially played for the Goody Saints but left after 2 seasons because the ultimate team man couldn't bear playing for a club with an 'I' in the title. Such was his passion for success that he symbolically threw his 1997 Goodwood runner up medal into the crowd rather than accept it. Although this did have the dual effect of making him look like a dickhead as well.
Merch the Merciless had no tolerance for those leaving 'les bleus' as Dave Floreani discovered to his detriment after an early season transfer to Henley. At centre bounce Merch deployed his notorious 'Tongan Torpedo' method of ramming his head full speed into an unsuspecting lower back of the defector. Floreani was carried off like Quentin Kenihan (the wheelchair guy) whilst Merch stood triumphant over his prey, snorting through his nostrils like a rampant rhinocerous.
Throughout his lifetime tour of 3 different emergency services Merch has kept himself in superb physical shape. At age 48 he can still bench press Cam Carroll and run like an Ethopian chasing a roast chicken. With the SHOC hordes hungry for September success it's only a matter of time before SOD must listen to the drums beating from Paringa Hall. Could we see the final brutal chapter written in the book of Merch??? This author desperately hopes so……..
The Oracle
PS: No tribute would be complete without mentioning the black Sunday incident, but apparently it is still to soon.