May 31 2019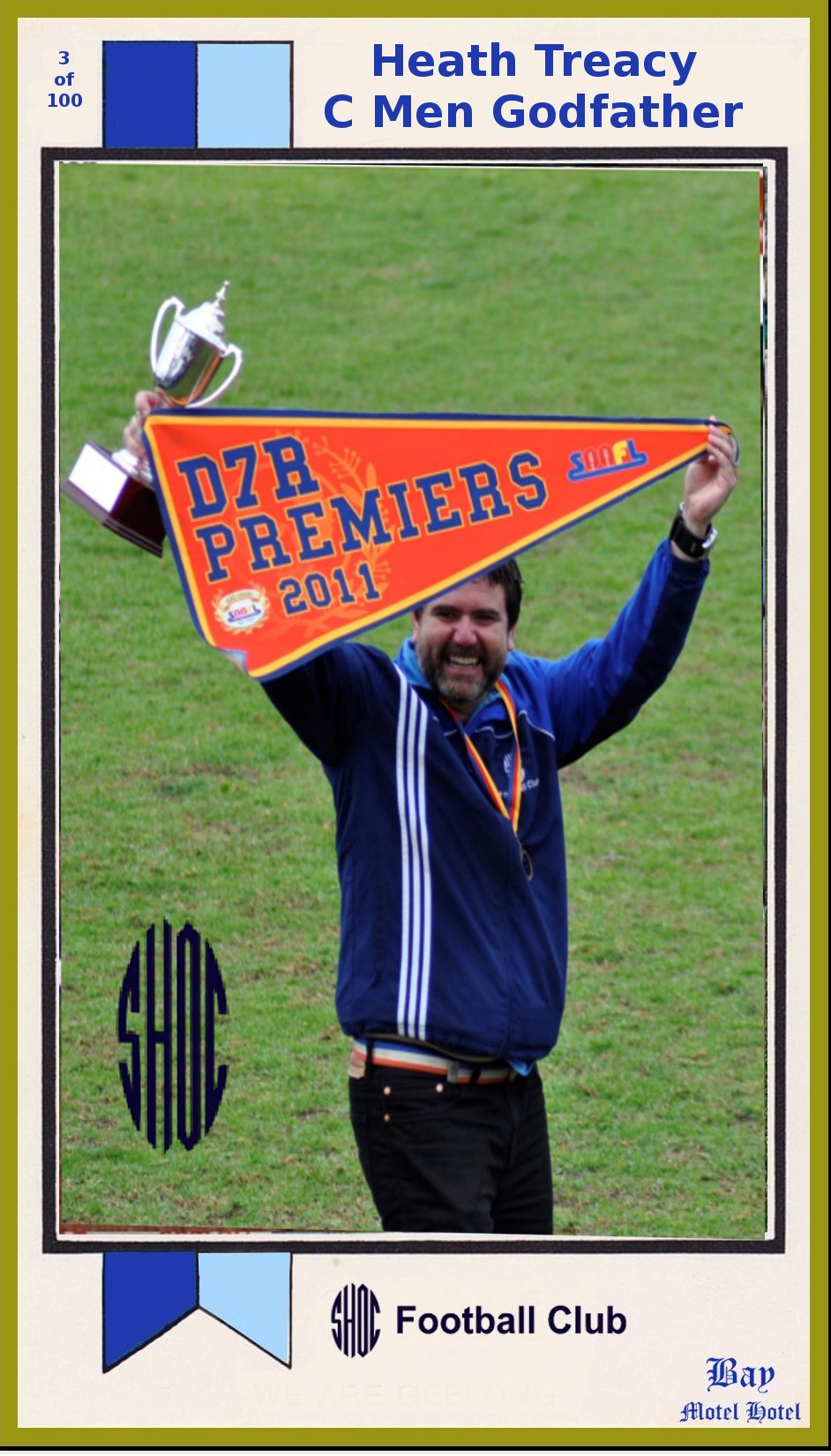 This week's Zoot Scooter Gold Card favourite is Heath "Heater" Treacy.
A veteran of 253 games and 30 years at SHOC. Known by the moniker 'Heater', he hoped people would relate to his style of footy but really it's just a play on his Christian name and his nocturnal work with a microwave.
There is nothing he hasn't done at SHOC (except nail a B + F). He has been President, Treasurer (where he often kept $10,000 under his bed for weekend emergency bail applications), most importantly good bloke, coach and triple premiership player.
Heater was a paternal figure at SHOC from a young age. He maintained a halfway house at Ramsgate Street Glenelg that housed some of the great homeless of the club (Scabby, Yobbo, Floyd and COD) much to the disgust of blokes actually paying rent. His regular Monday morning chore was retrieving the Peanut dispenser and other Broadway Hotel stolen items from his pool and return them to the long suffering local ale house.
He has always been up the front of the queue on end of season trips. Point in case when a younger team mate had to visit 'AutoHeater' for a withdrawal when he blew the weekend budget early by stuffing 200 bucks into a strippers undies on day 1.
He and Marty Kay were responsible for shutting down the 1998 Australian Open with bawdy songs and raucous behavior that completely ruined Ivan Lendl's tilt at greatness on centre court. When a regiment of security turned up and 'asked' them to leave (in a headlock) Heater proudly puffed out the chest and demanded that he could only be removed by SHC alumni John 'Cockaleechie' Fitzgerald. After tense negotiations they both agreed to be thrown out by Paul MacNamee's daughter.
The Heat has been synonymous with success at SHOC. He is in the top 10 games record holders and is about to go to 3rd on the all time most games coached list. 'The Oracle' wishes him every success in the next 30 years at SHOC and may he proudly wear those checked camp chef pants all the way to a premiership this year.