Aug 23 2019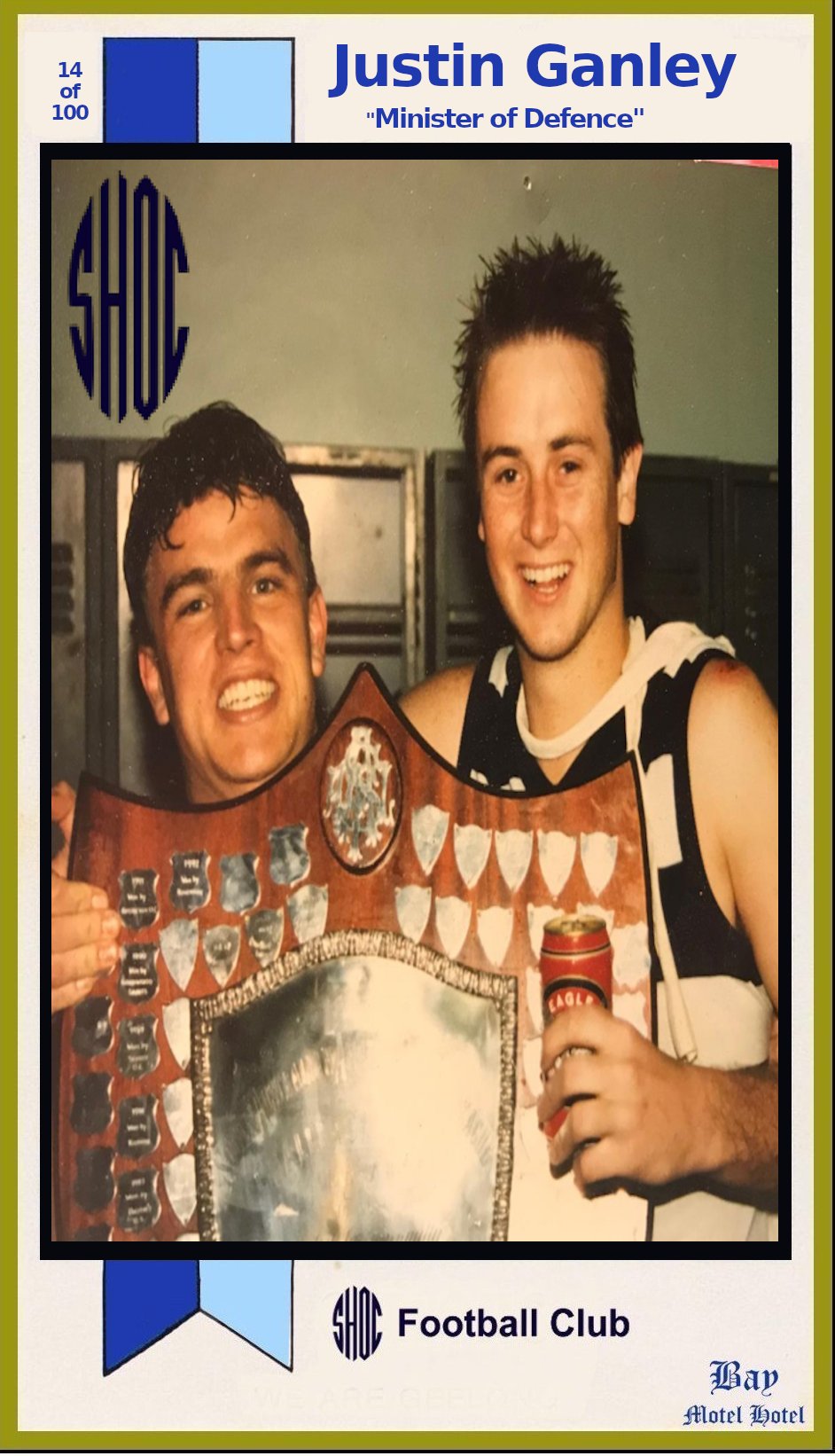 This week's Zoot Scooter Gold Card favourite is Justin "Gans" Ganley.
The Oracle goes to great lengths to avoid offending past Legends and their families with stories about their career low points. That won't be the case with this week's legend Justin Ganley.
In his 30 year SHOC career the self-proclaimed "Minister of Defence", hard nut enforcer would rather play in a cardigan than reveal his Kermit the Frog biceps.  Gans played the majority of his games in a simpler time when if you couldn't punch the ball you punched the head which as the years passed and pace slowed became his preferred option.
After a modest start in the Blue and Blue with the school 3rd eighteen he then moved to the Fort Largs police academy where he fine-tuned his skills. As with Max Merchant and Chris Baldwin before him he returned with twice the confidence and 2 non preferred feet.
Gans went on to become the only player in SHOC history to collect 2 A Grade premierships (3 in total) as well as playing all 5 grades for the club.
He became so successful at the pointy end of the season that when we did lose a Grand Final he took it upon himself to take the week off and celebrate with any club he could find. This came to a head 1995 when lining up for a SPOC tattoo when sanity finally prevailed, and he came home 4 days after the loss.
Gans has never been too far from controversy at SHOC. He was seen leaving through the back door on more than 1 occasion when "The Phantom" struck. He was next to Flash Kurenda at the Morphetville RaceCourse window incident in 2001. Sources say he was leading to Jack Juniper when he was passing schooner glasses with his left boot at the SHOC ball and the amount of evidence surrounding his involvement in the freezer failure and subsequent ice cream disaster at the Middle School in '92 is overwhelming.
Justin comes from a strong SHOC family. Parents John and Libby have been strong supporters but we weren't prepared when he bought sister Emma out to training. After a running fitness test where she cleaned up the entire club it was suggested he leave her home next time. His family has grown over the last couple of years with the adoption of Rupert Peake. Gans started with a mentoring role with the long striding SHOC backman but when that progressed to tucking him in at night and cutting the crusts off his sandwiches Rupert had to do something. He took out a restraining order and is currently overseas in a witness protection scheme.
Gans has been an integral part of the club for over half its life and as we saw this year he still has a few games left in him.
To this week's legend "Gans, The Minister of Defence" we salute you.
The Oracle