Aug 9 2019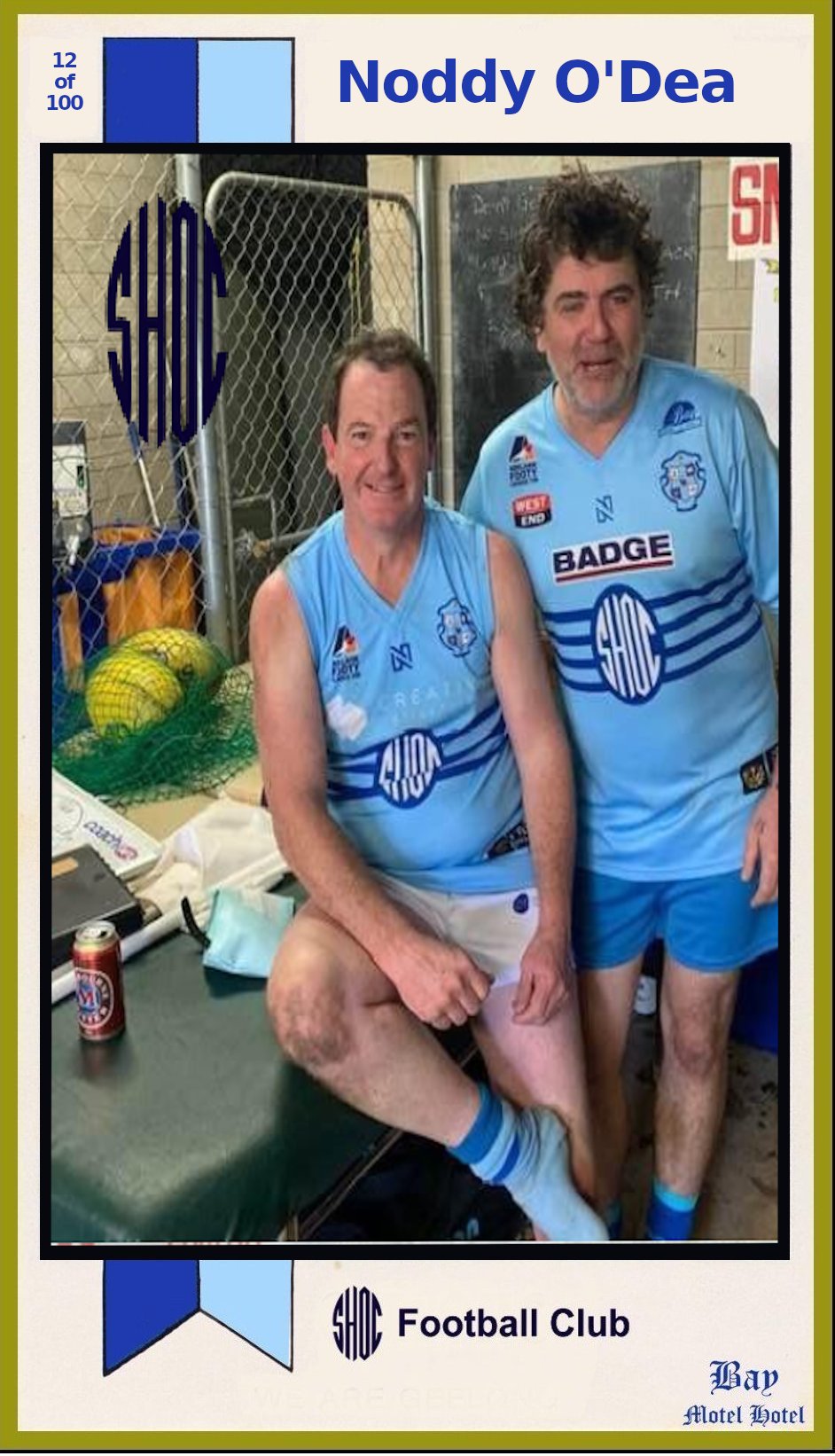 Neil "Noddy' O'Dea started his playing career at SHOC in 1988 (to put it in perspective -the same year Rav was born) Since that time he has played over 400 magnificent games initially as a midfielder before settling slowly into a permanent "small forward with a massive heart" role
A breakdown of this magnificent career as of last year is as follows
61 A grade games (unlucky not to have been more but went through with many once in a generation players (Moroney, Marling, Sweatman etc) that kept him out of a spot)
103 B Grade games
Over 100 C Grade games and counting
107 D Grade games
18 E Grade games
2 x D Grade Premierships – Coach and Player. (2006/2007)
Coached 196 games
315 career goals and counting
3 x leading goal kicker – including bagging a massive 27 in the 2006 premiership year.
0 x Best and Fairest – further evidence of his unwavering team first approach.
Has the ROC vs SHOC medal and the under 18 club medal named in his honour.  States the best players he has played with as Tony Proud, Pete O'Brien and TG (Griffin).
A strict diet of chop and eggs 5 nights per week, a Schnitzel on Thursday at the BMER and Roast on Sunday sees his cholesterol count currently sitting slightly higher than his career average disposals.
Career highlights
Winning the years supply of Crust Pizza raffle, but has yet to extend beyond the Ham and Pineapple option.
Effectively smothering All Australian Amateur SPOC Centreman John Kerr in the 1996 Div 2 Grandfinal. An physically and emotionally exhausted Ker was heard post game to remark "It feels like Ive just been bitten by the Peterborough Prarie Dog"
As a coach he is credited with instituting the infamous D Grade 'lock in' after the final minor round D grade game where the principals of sensible alcohol consumption are totally ignored.
By Season 2005 after 3 unsuccessful premiership tilts it was starting to look like the elusive SHOC premiership might finally avoid him. However the lion hearted little coach stood up at 3 quarter time and delivered the legendary "Catholic Justice" speech which was lauded as lifting the weary D grade outfit to a Herculean last quarter effort to snatch victory…. Steve Schmid kicking 5 with a busted hamstring also helped.
A conscious and selfless decision to forgo the opposite sex has seen him married to the football club for years. Had the SHOC Netball club formed 10 years earlier who knows what hideous carnage this prince of SHOC Bachelors may have wreaked upon the hapless group of young women.
In summary Nod is a once in a lifetime fellow whose honesty, selflessness and dedication to the SHOC Football Club has been a large part of the longevity and success of the club over the past 25 years. No one would be foolish enough to bet against him reaching 500 games.